Do you live in a luxury flat and don't want to change your habits while on holiday ? Are you planning to go on a trip and have an unforgettable time? Would you like to rent a contemporary luxury flat?
Not all luxury flats fall into the category of luxury flats. Specific criteria must be considered to truly meet the definition of luxury. Prestigious flats, rare, maintained without denaturing the original raw material. These are all essential elements to make your stay an exceptional moment.
Real estate agencies such as Haussmann Real Estate offer seasonal rental of luxury flats. What exactly do we mean by luxury flats? What does it consist of?
A luxury flat is an unusual dwelling that gives its occupant the feeling of being unique. Do you want to buy a luxury flat, rent it out on a seasonal basis, or simply stay there for a weekend? Here are some of the essential features of a luxury flat that will ensure your relaxation and well-being.
Luxury flat: modern architecture
A luxury flat must have the capacity to surprise you. Its futuristic look and high-tech technology are transporting and testify to its unusual posture. An architecture that combines modernity and advanced technology makes your daily life easier. Switching off the light in the room with a snap of the fingers, or programming the opening of the blinds at daybreak. These features, combined with the contemporary design, make these flats a place of comfort and relaxation.
Luxury flat: ideal location
The location of a flat is a key factor in making it truly prestigious. The value of a flat increases with its location. A location close to transport links considerably reduces the time spent travelling. Proximity to all amenities offers you a hassle-free stay.
The tourist or historical character will also add value to a flat. Whether it's a place that is vibrant with tourists or a place with a rich history, you can choose according to your aspirations.
Luxury flat: a breathtaking view
The view is a crucial element for a luxury flat. The rarity of flats with a breathtaking view adds priceless value to the flat and makes it luxurious. Like gold, what is rare gains value. Treat yourself to an exceptional view of the Eiffel Tower, the rooftops of Paris or a breathtaking view of the sea. A breathtaking view is an indispensable element of a luxury flat, it gives you a sense of grandeur.
Luxury flat: a swimming pool
Building and maintaining a pool is very expensive. Having one in a flat, indoors and upstairs, is an astronomical investment. Having your own swimming pool in your flat is a privilege that is not granted to everyone. Choose a luxury flat with a swimming pool and enjoy exceptional moments as a couple, with friends or with the family.
Luxury flat: sauna or hammam area
Luxury is also synonymous with relaxation and serenity. A break from the hustle and bustle of everyday life. Beauty and wellness salons offer a moment of relaxation. You would have to travel, face traffic jams, mingle with others. You are exposed to stress before you get to the limited sauna and hammam hours. After the session, you will lose the wellbeing you have gained as you face the journey back home. What could be better than a sauna or steam room in your own flat to fully enjoy relaxation out of sight?
You have your own space, without sharing it with other people. You can enjoy it alone or with your friends.
Luxury flat: a master suite
A master suite is a set of rooms including the bedroom. A spacious room with a bathroom and dressing room, it allows parents to meet up and not mix with the rest of the family.
It guarantees total privacy. This room is intended to provide a cosy cocoon, conducive to tenderness and calm. To meet these criteria, particular attention will be paid to the choice of materials; to its design as well as to the continuity of the colours. Choose your luxury flat with a master suite and give your couple a fresh look.
Luxury flat: a large living room
It is a classic for luxury flats to be equipped with a large living room. It is a room that will be used for entertaining guests. But it will also serve as an exhibition space for art lovers. Paintings to be hung or bulky sculptures need a large space to be displayed. For a couple with children, a large living room is ideal so as not to step on each other. A living room par excellence, you can spend the whole day playing games, chatting and watching television. You can organise professional or friendly receptions.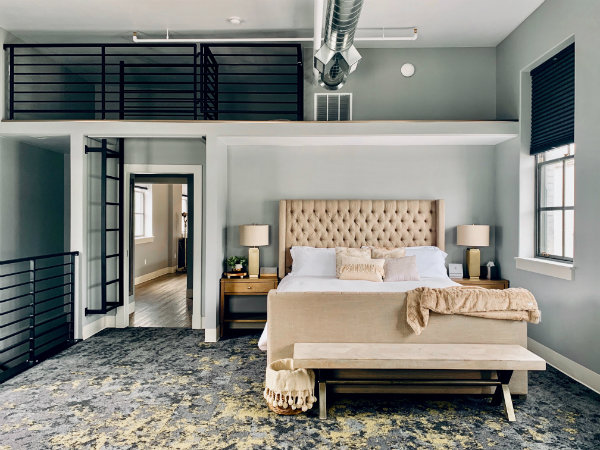 Luxury flat: large terrace or rooftop
The dream of every city dweller is undoubtedly to have a large terrace or a rooftop. In summer, you can enjoy all the benefits of the sun. Just open the door and you're in your own private outdoor space.
Deckchair, parasol, inflatable pool for the kids, a large terrace offers a multitude of possibilities to make your life very pleasant. In the winter, you only need a few heated parasols. You're all set for pleasant moments with friends. The rooftop or large terrace is the essential element in your choice of luxury flat, offering a bird's eye view of the city. Day or night, this breathtaking view makes you feel unique and exceptional.
The essentials of a luxury flat will make your daily life easier. A well-deserved break from the hustle and bustle of life. Treat yourself to the best, choose the luxury flat that suits you.